Viktoria Komova must win the Olympic all-around gold medal. In my eyes her gymnastics is what I prefer to see win this title. When she's hitting her routines she has a calm and light approach to her skills that I love to watch. She is generally a clean gymnast in terms of execution. Her main rivals will be American Jordyn Wieber, Chinese gymnast Yao Jinnan and even her own teammate Aliya Mustafina. I think she has the edge to win AA if she hits and goes clean. It's been a long time since a Russian from Russia have won Olympic AA gold and Komova has the best chance to do this.
There really isn't a weak event for Komova if she hits. She has the potential to advance to every single event finals at the Olympics with the exception of vault, unless she has a more difficult second vault. She has the potential to take top 3 in 3 of the event finals.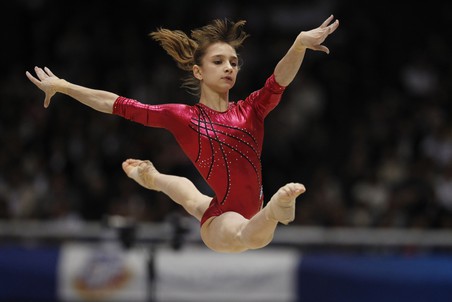 Her best event is UB and she has two skills named after herself. The judges seems to love her a lot on bars and I don't mind this. She is light and floats with fluency, nothing looks terribly laboured. She flies man. She will battle for gold on this event with Tweddle (GBR), a Chinese gymnast or two and probably Aliya Mustafina (RUS). Komova could win and I don't mind if she does but if I'm already wanting her to win AA I can't be too greedy so I'm rooting for Beth on this event.
I would say her second best event is floor. She is more consistent on floor than on beam. I think we should ignore her FX performances in Tokyo. She wasn't 100% healthy and the floor was extra bouncy. What I love about her skills on floor is that she is so exact and precise in her tuck positions. Her double Arabian is one of the best I have ever seen, probably the best this quad. It's beautiful how she is tightly tucked. The code of points deducts for lack of tuck position and Komova does not lack this while many gymnasts do and should get deducted. Her landing positions are rarely deductible as she lands fairly straight up. Sometimes the WAG code of points is crazy for wanting gymnasts to land straight up when it's just asking for more injuries. Something like the MAG landing deductions would be a better approach. They are less strict on deep squatting deductions. I still say the women should still stick their landings though. Komova has potential to take a bronze medal on this event and even win gold if major mistakes happens from her other competitors. Her downfall is getting those spins around. She must get those spins around.
BB in my opinion is her third best event. I don't see her winning gold on this event. She can potentially win a bronze at best. She's been having the most struggles on this event in terms of upgrades. What makes her BB special is that she goes old school and does flic-flac + loso + loso combination which always gets the crowd to be in awe somehow. Her standing arabian is technically precise and beautifully done with nice landing position. She also once did a Patterson as her dismount and maybe she will bring it back but it's quite hard for me to imagine her compete it again.
Even with an Amanar vault, this is still her weaker event but this is the one event that will give her a big advantage if she lands it to her feet. This vault has a massive D-Score of 6.5. She is generally clean here. Most notable deductions may come from crossed legs and some block issues but not much to critique. Hopefully she will have an Amanar consistently for team Russia and AA. If she doesn't get her Amanar back her DTY (Yurchenko 2/1) will still be competitive enough for her AA competition. She was still able to qualify first to the all-around finals in Tokyo with a DTY.
All I got to say is this girl needs more confidence and mental toughness to keep on pushing and to continue when things aren't going her way. I feel like she is a perfectionists. When she messes up just a little bit she gets frustrated and gives up or continues with no fight and desire. She needs whatever Mustafina is on. I have confidence that if Komova hits she'll be the Olympic All-around champion.