Edit: The link don't work no more. You can download from the
FIG site.
Basically a gymnast will get 0.1 SB for doing 3 connected acro elements in a row. The formula starts with B + B + C or more in any order. The key is to remember the two letter skills for 0.1 and 0.2 connection values.
The Formulas for 0.1CV are C/D + D (or more, without rebounding), C + C, and B + E.

The Formulas for 0.2CV are C/D + D (or more, with rebounding), B + F (or more e.g B+G), B+D (rebound forward direction only)

These are very important formulas to remember when adding up the series bonus (SB). I know it might sound confusing but bare with me.
For example the overused D+B+C (Front Aerial + flic flac + laid out step out) will now be only worth 0.1CV instead of 0.2. If you look at the D+B+C it has all the required "series bonus" B+B+C or more in any order. So it will get 0.1 for SB. Now you will have to look at the connection value parts (CV). This was posted in the bullets above. Remember that CV only works for two acro skills, no dance skills. If you look at D+B+C it does not meet the required CV. There is no D+B (forward + backward) connection value and there is no B+C connection value. Therefore no CV is rewarded for doing D+B+C, only the SB will be rewarded. Here is the calculations, 0.1SB + 0.0CV= 0.1 connection point.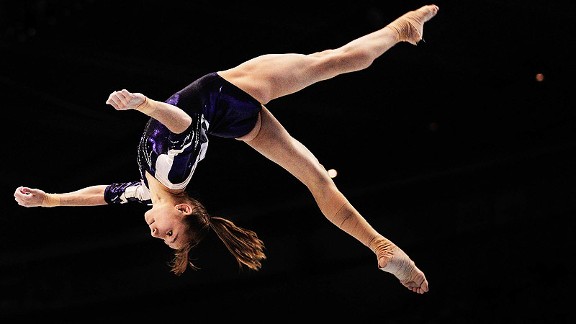 This is great news for a gymnast like Komova. The famous old school flic flac + laid out step out + laid out step out will now receive a total of 0.2 connection points. Example B+C+C meets SB requirements so add 0.1. B+C no CV. C+C = 0.1CV. So 0.1SB + 0.1CV = 0.2 connection points for difficulty score (D-Score).

Another Example, B+B+F dismount. Take Iordache's RO + BHS + 3/1 Twists for example. B+B+F meets SB requirements add 0.1. B+B = 0.0CV, B+F = 0.2CV. The whole B+B+F will be worth 0.3. That's good news for some gymnasts.
Edit: I totally misread the CoP. So there will be no CV for dismounts. I think that's a stupid rule. I really like dismounts in connections for more value. IMO there really is no point in doing connection dismounts now. You'll only get 0.1 for SB, that's lame.
I really like the SB formula. This SB thing might also make a lot of older gym fans happy. We'll most likely see a lot of old school combos coming back e.g lots of laid out step outs in connections.